Due to the COVID-19 lockdown period, feedback will now stay open for an extra week (Friday, 1 October 4pm) to allow extra time for submissions. We have had a great response so far, thank you to everyone who has taken the time to submit.
Affordable housing is essential infrastructure for a Smart Little City

Nelson needs more housing. A lack of affordable housing close to our city centre is an issue raised time and time again by our community as one that Nelson City Council needs to address.
Feedback is now open. Feedback closes Friday 24 September 2021 at 4.00 p.m.
---
Nelson is the largest urban centre of Te Tauihu with 54,600 residents, and many more wanting to call Nelson home. Nelson will only continue to thrive if there is enough housing at different price points for the people who already live here and the talent that we want to attract to our region now and in the future.
As a Council, we are constantly identifying opportunities for enhancing Nelson's economic and social vibrancy and adding to the wellbeing of residents. For example, Te Ara ō Whakatū (the Nelson City Centre Spatial Plan) seeks to invigorate our public spaces through a range of city centre investments over the short to medium term. The principles behind this plan align strongly with a need for housing intensification in our city centre.
Council has consistently asked central government to invest in housing in our Smart Little City to increase supply and affordability. To create a partnership that has a common desire to see people of all ages and backgrounds living safe and happy lives in Nelson.
Following consultation with the public during the draft Long Term Plan 2021-31, Council has been actively working in partnership with central government to explore smart housing solutions that aim to increase our supply of affordable housing.
We now have an exciting opportunity to develop high quality, affordable residential accommodation, with commercial and/or community activities on the ground floor, in the city centre in collaboration with Kāinga Ora. The opportunity involves divestment of Council property, and we are now seeking your views.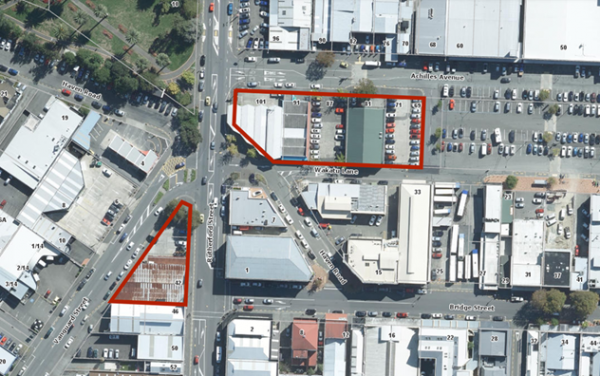 Locations of proposed developments at 69 to 101 Achillies Ave and 42 Rutherford Street.
The objective of this proposal is to create social and affordable housing in the city centre by divesting Council assets and working with Kāinga Ora. Council undertook consultation on this general approach as part of the Long Term Plan (LTP). The topics outlined in the LTP consultation document included housing affordability, intensification and partnering with central government (specifically Kāinga Ora).
Council now has a good range of views from that LTP process. However, community views on this specific proposal to divest this Council land for social and affordable housing are now being sought.

Concept Images
Please note: these are not actual designs.
What is affordable housing?
There is no universal definition of affordable housing, however in the case of this proposal, affordable housing is housing, including social housing, that is appropriate for the needs of: very low, low and moderate-income households in Nelson.
Nelson needs housing at higher price points as well, as there is a housing supply issue across the board. However, this proposal is focused on partnering with Kāinga Ora to deliver affordable housing.
Kāinga Ora has yet to decide the portions or different types of affordable housing to be included in the development (if it does go ahead following this feedback process), and this will depend on them partnering with other housing providers such as iwi, community housing providers and developers.
Kāinga Ora has advised that any housing development on these sites will be less than 50% social housing, with the greater portion being made up of different types of affordable housing.
Why Partner with Kāinga Ora?
Nelson City Council and Kāinga Ora have a strong working relationship, established during the divestment of our community housing portfolio, which was finalised in March 2021.
Kāinga Ora have made it clear that they want to continue working together with Council to alleviate Nelson's housing crisis.Kāinga Ora and Nelson City Council have shared goals around ensuring affordable housing and urban design outcomes for Nelson. The ability to fill the demand for social and affordable housing is not something that is achieved by the market and requires a partnership approach.
Kāinga Ora owns and/or manages about 1,620 state homes in the Nelson-Tasman area. Their commitment to the region is ongoing and will see more projects of all sizes undertaken.
A partnership approach with Council forms part of that work. Together, we have the capability and resources.
To ensure that any development positively contributes to and enhances the city centre as part of any future negotiations, Council will look to agree the following design outcomes:
1. High quality, high amenity, interactive and accessible design to street and laneway edges
2. Design compatibility with the adjacent public spaces and central city location
3. The use of appropriately scaled and well-modulated/articulated architectural design elements and an appropriate provision of space, openings and materiality (i.e windows, balconies and cladding types)
4. Integration of vehicle, public transport and pedestrian circulation with adjoining street frontages and Wakatu Square with minimal provision of on-site carparking
5. Inclusion of quality, climate resilient, sustainable, design and building practices
6. Less than 50% of household units will be for social housing, the remainder will be a mix of affordable housing types
7. Demonstrates consistency with the six key moves of the City Centre Programme Plan
8. Minimise, as far as practicable, shading effects that lead to safety hazards on public streets, areas and footpaths
9. Provide appropriate cycle storage and servicing facilities
10. Within these outcomes, maximise housing yield
Other than agreement to meet the design outcomes listed above, Kāinga Ora have no specific development designs for the sites yet. However, they have provided the design statement below to assist the community in understanding their intentions for the development of the sites.
Council would then need to enter a sale and purchase negotiation process with Kāinga Ora, where both parties would seek to agree on specific terms and outcomes to be achieved by any sale. Council would be seeking a market value for the sites and proposes to use those funds to pay off debt. However, the exact terms of any sale would be subject to a separate decision by Council.
Nelson CBD Sites: In collaboration with the Nelson City Council, Kāinga Ora has developed high-level concepts for two exciting development opportunities in central Nelson.
These projects present an opportunity to deliver a total of about 175 homes for people with a range of housing needs, along with the potential for a range of community spaces and commercial uses. Due to the wide-ranging needs of the community, Kāinga Ora has opted for a mixed-use concept which caters to each site and its surrounding area. Should either proposal go ahead, any development would create high-quality, mixed-use residential environments that have sustainability and community well-being at the forefront.
It should be noted, however, that Kāinga Ora is yet to make any final decisions surrounding the purchase of either site. Should the Nelson City Council opt to sell the land to Kāinga Ora following consultation, Kāinga Ora would still need to complete important due diligence work before making any final purchase decisions. For this reason, any figures and features included in this document are, at this stage, indicative only.
Mixed housing types: These developments would be an asset to both the central city and wider area, providing a range of housing options at a density and scale while reflecting with the existing character of the community.
While further work is required to develop the site design and housing mix, any development would incorporate a mix of types, from one- through to three-bedroom homes.
Kāinga Ora would also seek to provide social and affordable housing, to meet the wide-ranging housing needs of Nelson residents. Kāinga Ora anticipates it would build about 125 homes at the Achilles Avenue site and about 50 on Rutherford Street.
Should they go ahead, these developments would provide a unique living environment that would be well-integrated into the surrounding area, contributing to the vitality of the central city while aligning with the aspirations of Nelsons City Centre Spatial Plan.
Given the unique nature and location of the sites, an emphasis would be placed on ensuring the proposed buildings were appropriate in scale, form and appearance.
The sites present a significant opportunity to create landmark buildings that could range from five to eight storeys. The concepts would be created with environmental conditions and neighbouring properties in mind, particularly with respect to ensuring surrounding streets benefit from a good level of sunlight, and differences in floor-level heights between the street and buildings are well managed.
Communal spaces: Careful consideration will be given to the inclusion and placement of non-residential activities within the proposals, including communal open spaces.
While the exact nature of these activities is to be determined, the proposals will reflect the central city environment and matters such as servicing, access and planned upgrades to surrounding streets. In addition to the more commercial activities, it is also proposed that Kāinga Ora would incorporate some flexible community spaces and potential facilities for its staff, customers and community partners.
Kāinga Ora has already begun giving consideration to a number of other features that would continue to be a key part of any planning, should any development proceed.
Some of these include minimising on site car parking, creating a highly-accessible living environment, managing the impact of increased floor-level heights, allowing for a range of amenity spaces and integrating a broad array of sustainability and well-being initiatives into the development.

Sustainability: Kāinga Ora has made a commitment to improving its environmental performance and has actively stepped into the global green building movement by committing all its new homes will be built to at least 6 Homestar standards. This means warmer, healthier and more energy-efficient homes for tenants and their whānau.
Kāinga Ora moving to 6 Homestar means its new homes exceed Building Code standards for warmth, dryness and health. The way its homes are designed (energy requirements), built (for example, choice of materials), maintained, and demolished (for example, waste minimisation) are all areas of opportunity to reduce its impact. So, too, is the way it plans, designs and delivers new urban environments and infrastructure.
Council considered a range of options available to it in relation to utilising the properties at 69 to 101 Achilles Avenue and/or 42 Rutherford Street. Council has assessed each of these options (including the proposal) in terms of their advantages and disadvantages.
Option 1 - Preferred
Sell 69 to 101 Achilles Avenue and/or 42 Rutherford Street to Kāinga Ora for social and affordable housing developments.
Advantages
• Kāinga Ora is a willing, well-resourced partner with successful delivery experience.
• Divestment to Kāinga Ora has a broader strategic benefit for the community as opposed to, for example, another commercial investor.
• Divestment to Kāinga Ora will achieve social and affordable housing developments constructed, owned and managed by the government and their partners and kept as social and affordable stock in perpetuity.
• Divestment represents a significant step in delivering on Council's housing intensification and affordability and city centre development priorities in the Long Term Plan.
• Further strengthens Council's partnership with Kāinga Ora to bring housing supply to the market in Nelson, building on relationships established through the sale of Council's community housing.
• It may also be the start of an ongoing relationship with Kāinga Ora, where Council partners to bring more social and affordable housing supply to the Nelson market.
• Supports Te Ara ō Whakatū city living outcomes and provides the opportunity to leverage compatible projects, i.e. Linear active transport corridor.
• Is supported by Government resourcing and funding and is more likely to achieve an exemplar built form in a timely manner than a market development.
• Enables Council to pay off debt from the sales proceeds.
Risks and disadvantages
• Existing tenants will need to find alternative premises during construction and possibly permanently.
• 12 leased and 12 carpool car parks will be lost or need to be relocated.
• Other uses for the sites are forgone.

Option 2
Sell 69 to 101 Achilles Avenue and/or 42 Rutherford Street on the open market to leverage housing supply.
Advantages
• Enables Council to consider a wide range of housing proposals
• Supports Te Ara ō Whakatū city living outcomes and provides opportunity to leverage compatible projects, i.e. Linear active transport corridor: shape.nelson.govt.nz/city-centre-spatial-plan
• May achieve a higher sale price via a competitive sale process
• Enables Council to pay off some debt from the sales proceeds

Risks and disadvantages
• Unlikely to result in Council achieving social or affordable housing supply in perpetuity
• Does not demonstrate a commitment to partner with Kāinga Ora
• Existing tenants will need to find alternative premises during constructive or possibly permanently
• 12 leased and 12 carpool car parks will be lost or relocated
• Other uses for the sites are forgone
Option 3
Retain some/all of the properties for future options.

Advantages
• Allows retention of some/all of the properties for consideration of future uses such as a hotel, a performing arts centre, a commercial development, a public transport hub, or other community development.
• Existing tenants can be retained in the interim.
• 12 leased and 12 carpool car parks will be retained in the interim.

Risks and disadvantages
• Does not align with Council's LTP priorities of leveraging housing affordability and intensification utilising its property portfolio.
• Does not build on Councils existing relationship with Kāinga Ora or strengthen relationships to achieve housing supply.
• Does not deliver social and affordable housing.
• Council will not be able to reduce debt levels using the proceeds of the sale.